General Resources for students/teachers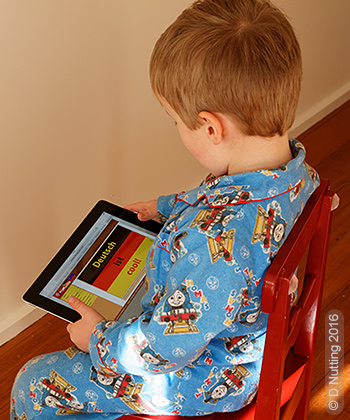 Beginning to learn German? :: here's a quiz - you probably know some German already!
die Flagge von Deutschland / Germany's flag
Umlauts and ß :: ways of typing Umlauts and ß if you don't have a German-language keyboard (Windows & Mac)
Search engines
Robert Shea's index :: index of German vocabulary aspects and challenges
Languages Online :: Junior German materials (Department of Education, Victoria, Australia)
Languages Online (UK) :: Languages Online (Andrew Balaam, UK)
Wikipedia :: freie Online-Enzyklopädie auf Deutsch
The German Quiz :: (from the best-selling book, How to be German, by an Englishman living in Germany - he throws a few stereotypes around)
Media gallery of the German National Tourist Board - check out photos and more of great places and scenes all around Germany.
DeutschLern.net :: practice reading (3 levels of difficulty, current themes/news), vocab, grammar. Free to use, login required.
DaF-Seite :: exercises and tests, reading, culture, games (Ralf Kinas)
BBC Education, German - Bitesize :: organised into activities/materials for Listening, Speaking, Reading, Writing, Grammar
Kaleidoskop :: diese Plattform ist für Jugendliche und Erwachsene in Deutschland und im Ausland. Informationsaustausch. "Alltag in meinem Land" – Berichte von Menschen und Alltagssituationen aus aller Welt.
deutschland.de :: aim is to inform young people across the globe about career, educational opportunities and lifestyle in Germany.
Vocabulix.com :: in this website you can choose to use the Vocabulary Trainer or the Conjugation Trainer. The vocab trainer has preset exercises in topic areas such as Animals, Sports, and School.
ThoughtCo.com :: German Language.
Jugendsprache :: teenager slang! Warmduscher-ABC - slang names for different sorts of wimps and wusses.


Task

: find names in the site to use for certain types of music fans, fitness freaks, workaholics, over-fussy/pedantic people, continual worriers (etc.)
STERN Online :: online version of the news magazine
Sowieso :: magazine for teenagers (look at articles in the "A-Z archive") - this site is no longer updated
The German-speaking countries :: general info about the countries with the largest number of German-speakers
Deutsche Kinderseiten :: Deutsche Kinderseiten (Bayswater Primary School's collection of links to German sites for children)
Prominenten-Raten (Celebrity Heads auf Deutsch!) :: sample questions to help you say questions and guess your identity in this classroom game - if you can, view this screen on a computer device on your lap while playing.
Ab ins Bett! :: ...Don't sit at your computer late at night, or your mummy will come in and say "Ab ins Bett!"